Shortest Path
Ok so now you have a path. In this case it is "LBLLBSR", but how does the robot change that into the correct path? Well let's take a look at what the correct path would be.
Final Path = SRR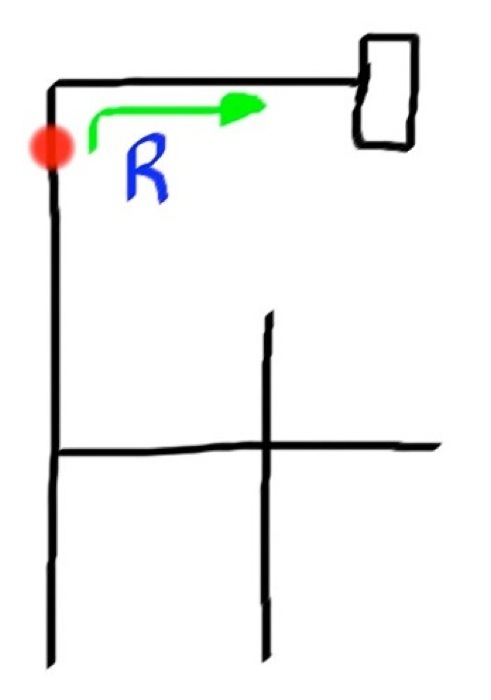 So we need our path to go from "LBLLBSR" to the shortest path, which is "SRR". To start off we look at where we went wrong. A "B" indicates the robot turned around - meaning it went down the wrong path. To optimize the path we have to get rid of the "B" by using some substitution.
Lets look at the first 3 moves in the path. These moves are "LBL". That move looks like this: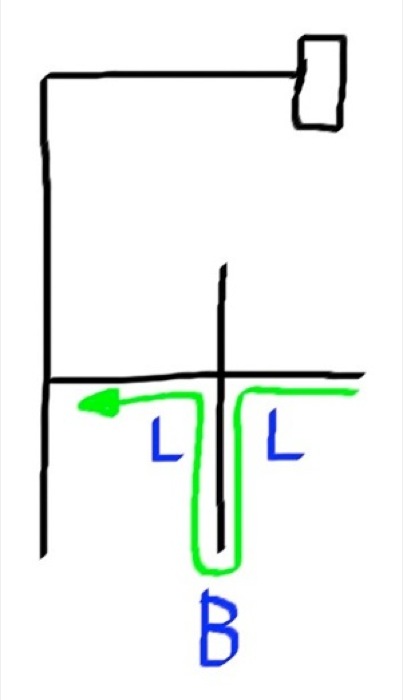 Instead of turning left, then turning around, and turning left again, the robot should have gone straight. So we can say that LBL = S. This substitution is what the robot uses to optimize the path. That is one example but here is the whole list:
LBR = B
LBS = R
RBL = B
SBL = R
SBS = B
LBL = S
You may not come across all of these when maze solving, but they are required when optimizing the path. Some even put "B" back into the path. This is required to further optimize the path correctly. You can figure out why for yourself or just trust me.
Let's optimize our path now that we know how to:
Path = LBLLBSR
LBL = S so our new path would be: SLBSR
We also know LBS = R so our new path would be: SRR
As you can see we got the path that we were looking for.
My robot optimizes the path as it travels. The path is stored in an array and every time it goes to store a new move it checks to see if the previous move was a "B", if it was then it optimizes the path. You need to know at least 3 moves to optimize the path - the move before and after the turn around (and the turn around itself).